Details
| | |
| --- | --- |
| Seller Username | 65shortbox |
| Sale by dealer or Private party? | Private Party |
| Reserve? | Yes |
| Make | GMC |
| Model | Chevrolet Pickup truck |
| Year | 1976 |
| Mileage (kms) | 403 miles shown (TMU) |
| | |
| --- | --- |
| Vin Number | TCD1461514050 |
| Motor | 400 cu. in. V8 |
| Transmission | 3-speed automatic |
| Exterior Color | Green |
| Interior Color | Green cloth |
| Seller reported accidents | No |
| Any Liens? | No |
Ended on: Jul 20 at 01:31pm MDT
Views: 2,321
Comments: 30
Watchers: 8
Transport & Import/EXport
transport quote
Enter your Postal/Zip Code
Description
This is a 1976 GMC C/K 1500 fenderside 4x4 pickup truck powered by a rebuilt small block 400 cu. in. V8 paired with a rebuilt TH350 3-speed automatic transmission and newly painted in a John Deere colour scheme over a matching green interior. This GMC is currently located in Olds, Alberta and is registered in Alberta, Canada. Square body trucks of this era are popular today and were a mainstay of the manufacturer for over fifteen years - the rectangular front fascia being the defining characteristic of GM's "Rounded Line" C/Ks - produced from 1973 to 1991. The undercarriage and suspension components underwent a significant restoration under prior ownership and the seller mentions that the recently rebuilt transmission carries a warranty.
For US bidders, this GMC is directly importable without modification as it is EPA & DOT exempt being greater than 25 years old. For more information on transport/import please visit our Transport/Import page here.
This third generation K10 has a two-door cab and an 8-ft long box with wooden guardrails and a wooden bed-floor with rounded fenders on the outside of the truck bed. Chevrolet calls this bed design a stepside and GMC calls it a fenderside. Putting the V8 power to the ground is a square set of 15" wheels painted yellow to match the John Deere theme, with manual locking hubs the wheels are wrapped in Sport King all terrain radial tires measuring 31x10.50R15LT.
Further exterior features include curved windshield glass, a six-segment grille with a red coloured "GMC" and "400" engine displacement decal. Rounded glass headlamps within a square housing complete the front end. The seller remarks imperfections including unfunctional windshield wipers, dents on the quarter panels, cracking in the dashboard and rust present on the bottom of the cab and box panels.
The truck's interior cabin has a green dashboard with a chestnut wood grain panel on the passenger side that features the Sierra GMC badging. The dash is significantly cracked, which can be seen in the gallery images. Door inserts are grey with manual mechanisms. The three-person bench seat has been fitted with a grey aftermarket seat cover. Optional extras include a Delco AM/FM audio sound system and an all-season climate control system. A two-spoke steering wheel fronts an instrument cluster with multiple squares of gauges to the left and a speedometer and fuel gauge above the steering column.
The seller mentions that a stainless steel exhaust was recently fabricated for the truck and installed. These trucks utilise Vari-Rate multi-leaf springs at all four corners, a front live axle with symmetrical shock absorbers, and GM's Load Control rear suspensions system.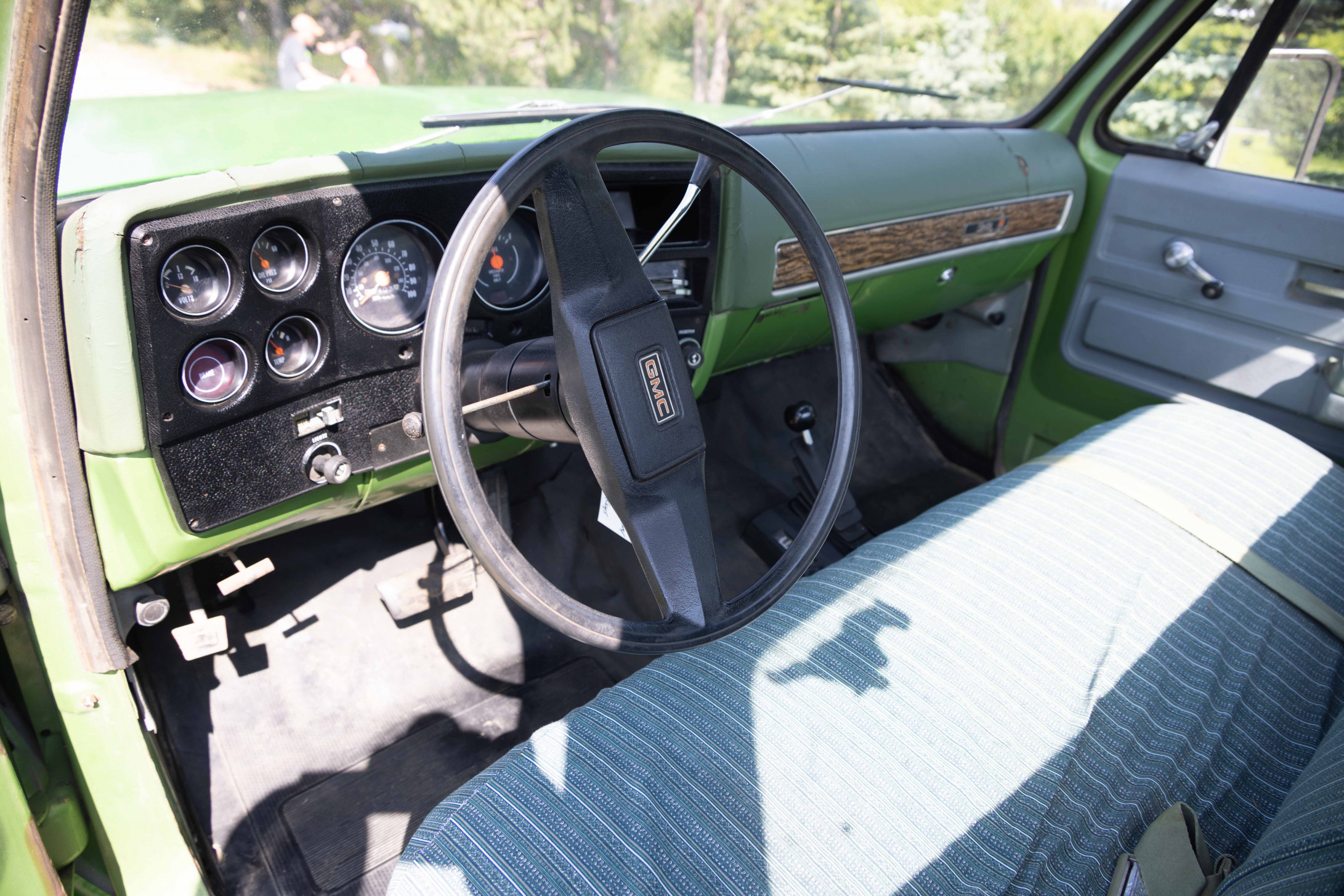 This GMC 1500 is powered by a rebuilt 400ci small block V8 with a four barrel carburetor powering all four wheels via a rebuilt Turbo-Hydramatic 350 3-speed automatic transmission. This transmission was rebuilt in October 2021 and comes with a one year warranty from that date from Rodger's Repair in Red Deer, Alberta. The 400 cubic inch V8 is the largest engine option for K-series trucks. The chassis on this truck is a high tensile strength steel with a drop centre design. K-series half tons have a towing capacity of up to 6,500 lbs of braked trailer.