Details
| | |
| --- | --- |
| Seller Username | alexbert |
| Sale by dealer or Private party? | Private Party |
| Reserve? | Yes |
| Make | Honda |
| Model | Minibike |
| Year | 1972 |
| Mileage (kms) | 2,822 |
| | |
| --- | --- |
| Vin Number | CT70-2042787 |
| Motor | 72cc single cylinder four-stroke |
| Transmission | 3-speed semi-automatic |
| Exterior Color | Candy Yellow Special |
| Interior Color | Black vinyl |
| Seller reported accidents | No |
| Any Liens? | No |
Ended on: Sep 18 at 01:45pm MDT
Views: 2,511
Comments: 19
Watchers: 8
Transport & Import/EXport
transport quote
Enter your Postal/Zip Code
This is a 1972 Honda CT70 motorcycle finished in Candy Yellow Special (paint code #HK1) with blue stripes and a chrome frame. It is powered by a 72cc single cylinder four-stroke engine with a 3-speed semi-automatic transmission. This CT70 is currently registered in Quebec, Canada. The CT70, or "Trail 70" was originally released by Honda from 1969 to 1982; it was intended to bridge the consumer gap between their smallest mini bike and larger street bikes. Painted in an array of fun, bright colours, it was marketed to all as a compact, lightweight trail hopper, weighing only 150 lbs dry.
For US bidders, this Honda CT70 is directly importable without modification as it is EPA & DOT exempt being greater than 25 years old. For more information on transport/import please visit our Transport/Import page here.
This CT70 has a hollow, pressed-steel T-bone frame with bold blue graphics. The engine guard, fenders, kickstart lever, muffler, air cleaner cap, foot brake pedal, spark plug guard, and tail light bracket are chrome. Behind the headlight bucket there is a 80km/hr speedometer with recommended shift points and a high beam indicator. The five-digit mechanical odometer shows 2,822 miles. The speedometer is mounted on a triple tree plate along with the handlebars. Braking for the 10" three piece wheels is managed by both front and rear drums. Brakes can be applied with either the left handlebar lever or the right side foot pedal. Duro trail tires have been installed. The tail light is of a substantial size and situated above a luggage mounting plate.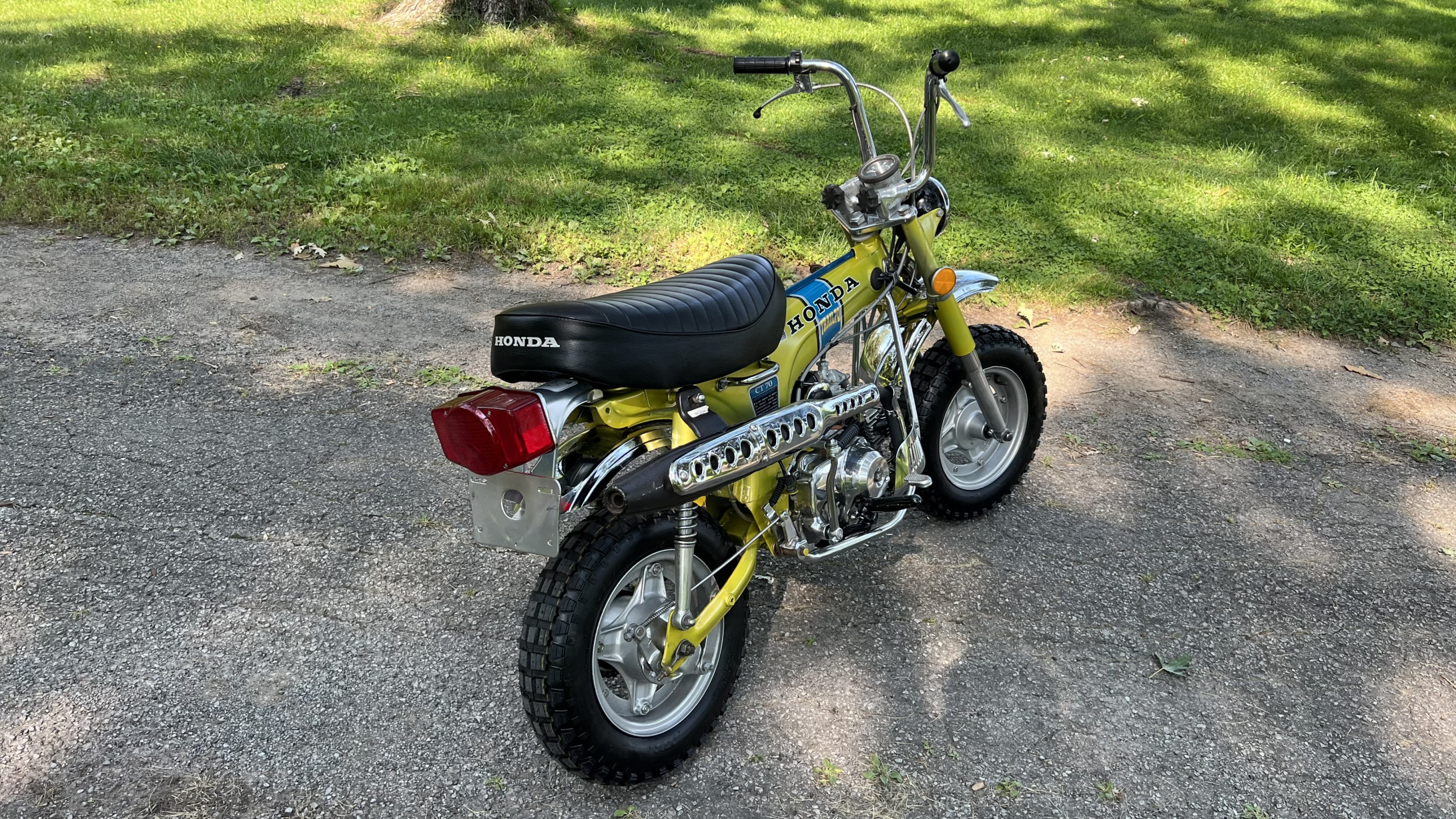 This CT70 has a black vinyl seat with nine heat-pressed transverse seams with room for two riders, and black rubber grips with a similar design. The seat bears the Honda name in white lettering at the back. The fuel tank is situated underneath the driver's seat. The chrome handlebars are twist-lock folding, and a carrying handle is mounted on the right side of the frame by the seat for easier storage and transport. Drivers foot pegs are mounted mid-ship, and passenger foot pegs can be folded in when not in use. This bike can be used on city roads, however it has a top speed of 75 km/hr when new.
The Honda CT70 is powered by a 72cc four-stroke aluminium single cylinder engine rated at 6 horsepower at 8000 rpm and 3.6 lb-ft of torque at 4000 rpm when new. It utilises a 3-speed semi-automatic clutch sending power to the rear wheel. It comes equipped with a Keihin carburetor, a kick starter, a spark arrestor muffler, and a high-mounted flat-back exhaust system with chrome heat shields. Steel bars descend from each side of the steering head to protect the head and cylinder cooling fins. Conventional telescoping-tube suspension is found at the fork, with a twin shock setup in the rear.